When I tell my clients to ease up on applications and focus more energy on networking I get that look.
You know the one: "I so don't want to do that." Or the other one:  "Eeew. Gross."
Underlying these expressions are fear (because many people don't know how to do it) and/or loathing (because it feels inauthentic).
The reason why I tell my clients to network is because what distinguishes you from the next person is the feeling. When measured up amongst all other candidates, where all the requirements are met, a decisive factor is how the hiring team felt when speaking with you. It's about making a connection that resonates.
With that thought, let's look at some tips for successful networking.
Tip 1: Lighten up.
This isn't "IT!" It's not "THE-ONE-OPPORTUNITY-YOU-HAVE-SO-DON'T-BLOW!"
When you attend functions, remove the pressure that you put on yourself. People can feel fear and desperation and few want to be around it. Shift your mind-set from a place of fear and scarcity to being empowered and curious.
Tip 2: Embody the person you wish to be.
How do you do that?
Picture yourself in the role you want. The ideal role; the ideal job; the ideal organization. How does this version of you dress? How do you hold yourself? How do you engage? Envision it and practice it. See tip 4 for more on practice.
Tip 3: Authenticity vs. Originality
In her book, Big Magic, Liz Gilbert observes a subtle yet important difference between originality and authenticity. When the focus is on being original there is pressure to find ways to stand-out. It is rooted in fear. Being authentic is about owning your awesomeness – what you already have that you rock!
See example below: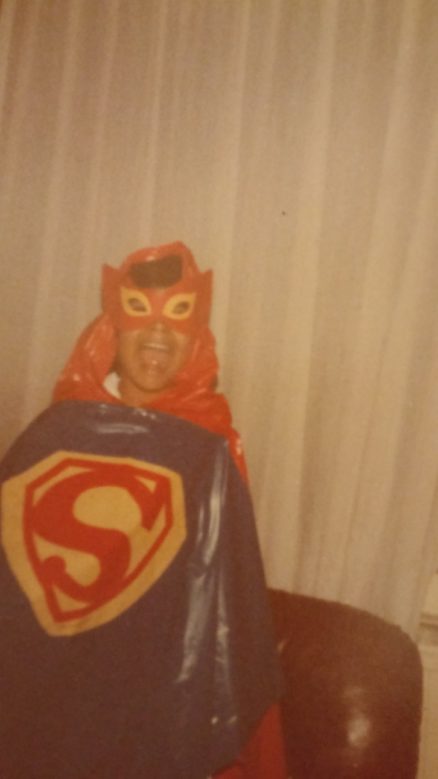 Yep. That' me. Still super woman after all these years!
Liz says, "Share whatever you are driven to share. If it's authentic enough, believe me – it will feel [sic] original." p.96
Tip 4: Clarity & Practice
Do you know what your super powers are? Seriously. Do you know what your strengths are and how they have led to specific achievements?
Are you able to tell a succinct AND engaging story (which is true so don't try to make it up) of how your super power (i.e. strength) led to a result (achievement) which had a positive impact?
Can you communicate it using words that your ideal organization uses to list their achievements – in about 30 seconds?
Now I know some of you may be freaking out at this point because you think you can't do this. The thing is, you can.
You can be the graduate who can demonstrate facilitation skills because you facilitated 10 dialogue sessions on relations between the MENA region and the West with university students through a virtual dialogue organization.
You can be the project coordinator with 3 years of experience who has written and delivered proposals which resulted in funding AND successfully renewed the funding. Equally important, the project achieved 3 specific outcomes (which you will name) improving the standard of living for women in the refugee camps.
Finally you could be the monitoring officer who wrote weekly and monthly analytical reports on protection issues in Afghanistan, delivered this information to 10 UN member states and NATO, developed and implemented a plan to address X number of issues resulting in risks (which you will name) that were mitigated (which you will be able to share succinctly how you did this).
See what I did there? In a short paragraph I name a role, what the primary role was and what the result was!
What's difficult about this is that you need to do your homework. You need to dedicate time to being clear on what your strengths are and how they led to a result/s that benefited an organization and supported people. You also need to dedicate time to practice delivering this with ease and confidence. That means out-loud and in front of the mirror. Try it. Remember, embody the person you wish to be. Hold your head up high, look yourself in the eye, and show yourself what you've got! (Insert virtual high-five from me to you here!)
Don't forget! Have business cards handy. Even if you don't have a job, have your name, contact details and link to your LinkedIn account and/or website, and/or blog post or any other social media account that displays your skills and experience.
Tip 5: Be curious.
Finally, be curious. This means shifting from: "I'd really like to work for your organization. I have the skills. Are there any job postings I should apply for?" to, "When I was looking at your website, I saw that you deliver psycho-social support to Syrian children refugees. Could you tell me a little more about it?"
The aim of networking shouldn't solely be to find out how to get a job. It should be about showing your interest in the organization by demonstrating you have done the research and are curious. It should be about naturally sharing your experience and how it can support the organization. It should also be about letting them know of your super powers and, determining if the organization is the right fit for you! All of this should, of course, happen after you have acknowledged them and the work they have done.
Your final question when ending a meeting? "How can I learn of work opportunities with your organization and/or who would you recommend I follow-up with on work opportunities?"
End with acknowledgement by thanking them for their time.
Remember you won't be perfect at this your first time around. It takes time and practice. Try these tips in low-stakes situations and gradually, as you learn from each experience, practice your way up to where the stakes are higher. Notice the shift in yourself from anxiety to confidence.
Want to learn more?
Here's your opportunity! On Friday February 9, 2020 I'm offering a workshop on How to Get the Job You Want! If you can't make it, you can sign-up for a 1-on-1 coaching special. Both are offered at a reduced rate. Terms and conditions apply.
As always:
Be gentle with yourself. You're doing the best you can.
A nod of respect from me to you.
You are taking the time and investing your energy in something worthwhile;
To be empowered to make a difference.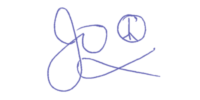 Have more questions? Send an e-mail to joann.o.rodrigues@gmail.com